---
Regrettably, the 2022 Messiah Sing-Along preparations and concerts are still being affected by the on-going Covid situations. At the moment, the usual series of three concert dates and times for December 17th and 18th are reserved at St. Johnís Episcopal Church. And the usual orchestra plus choir and soloist rehearsal dates and times on the evenings of December 13th and 15th in the St. Johnís parish hall are also reserved. But the typical series of choir rehearsals on Tuesday evenings have been cancelled due to the ongoing covid nightmares, which is sad news indeed. So for now, please watch this website for any late breaking updates. And also mark your calendars in pencil for the December dates.
---
Does singing the Messiah only once per year as a member of our audience leave you wanting more? If so, join us in the chorale. You can sing Messiah in our weekly practices, as well as in all three of our December performances.
The chorale provides a core of singing support to the audience during our December performances.
The chorale is open and non-auditioned. All are welcome to join, regardless of ability.
Practices are fun! Perhaps you need some fun to relieve the hustle-bustle and stress that the holidays can bring on. You'll leave each practice humming some tunes and with a smile on your face :-)
Newcomers are welcome to join the chorale through mid-October, while singers with prior Messiah singing experience may be able to join later.
Chorale dues are $15 for the season.
For 2019, rehearsals...

will start on Tuesday, September 10th
will occur every Tuesday, 7:00PM -- 9:00PM, until the December performances
will be held in the choir room at First United Methodist Church.
Questions...? Please send an e-mail.
Chorale mailing list sign-up
Even remotely interested in joining the chorale? Already a chorale die-hard? In either case (or anywhere inbetween), please join our mailing list. We'll send you a reminder e-mail about rehearsal start-up (early September), weather cancellations, and (very occasionally) other things that we feel worth communicating. Sign up under as many e-mail addresses as you like (e.g. maybe you would like to receive Chorale e-mails both at your work and personal e-mail accounts).
We would really like to know your first and last name unless it's evident from your e-mail (jane.smith@gmail.com probably belongs to "Jane Smith", but TofuLover@gmail.com, well... that could belong to almost anybody in Boulder).
Resources
A library of MP3 practice pieces is available for those who would like additional practice.
How do we manage to sing the Messiah, or anything at all for that matter? Scientific American dissects the physics of singing in its article "The Human Instrument".
Choir fun...
Photos from the 12/6/2011 practice (only one more practice until the December performances)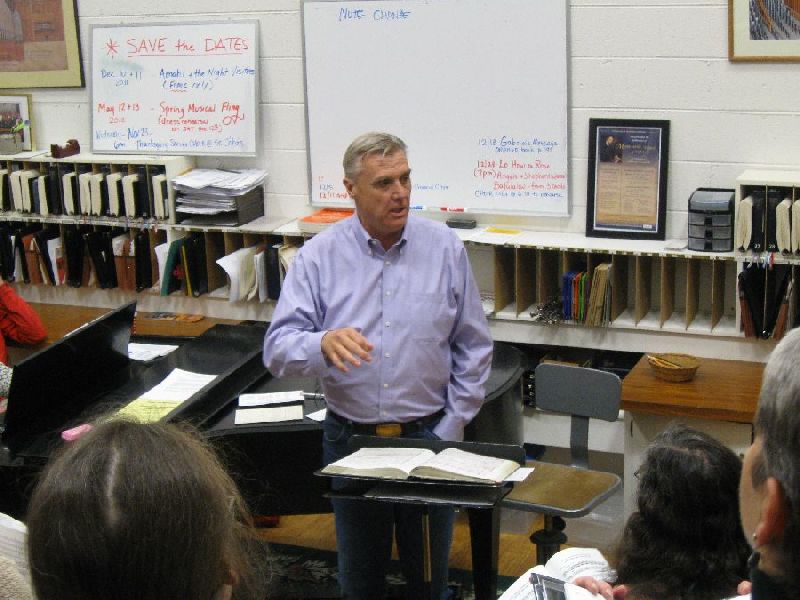 Bob tells the choir one of his many stories accumulated from almost 30 years of Messiah sing-along performances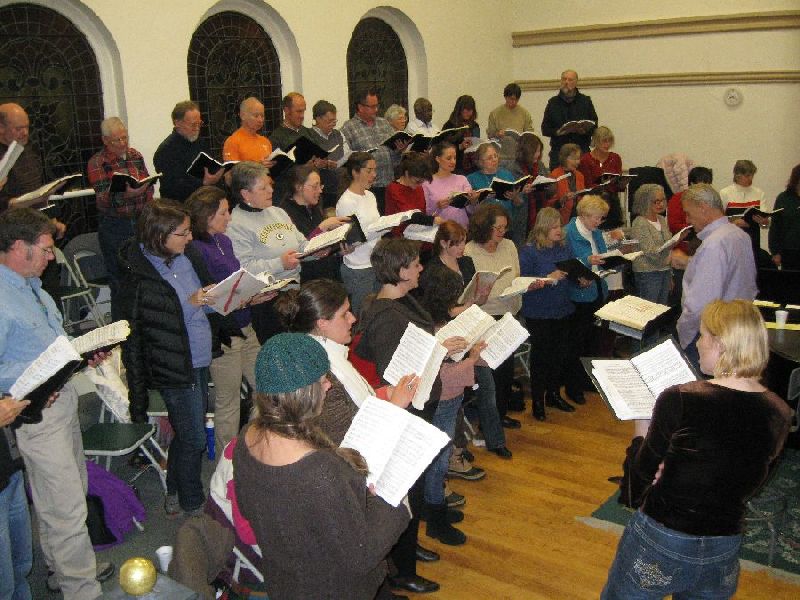 A full house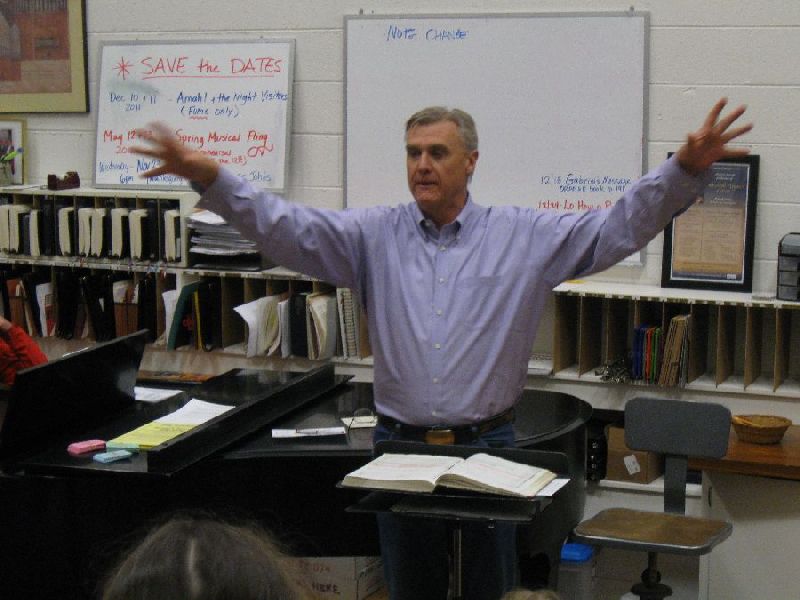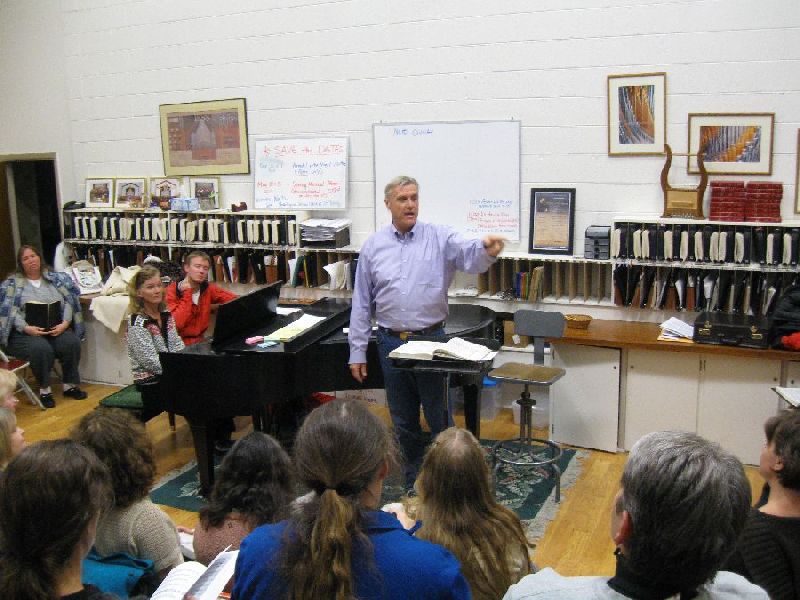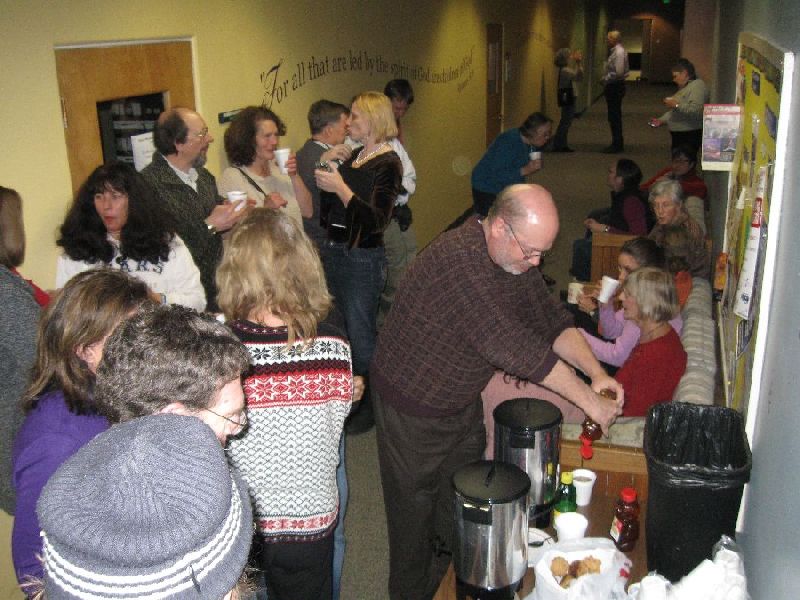 Mid-practice tea and cookies time is popular with all